Advertisers must prepare for the end of traditional tracking via cookies in 2023. Google top manager Matt Brittin clearly emphasized at DMEXCO in Cologne: "The transition to a world without third-party cookies means that we have to rethink the technology on which much of the online advertising system is based." So Google is getting serious!
This also applies to the company's own Chrome browser, where the "grace period" for cookies was not extended and thus expires in 2024. Even before this, however, measurement of the company's own sales and inquiries is no longer sufficiently guaranteed via conventional, cookie-based tracking.
What data will you lose in conversion tracking?
As the chart for mobile and desktop browser users shows, a significant amount of conversion data formerly tracked via cookies is being lost. Let's assume that the conversions that really take place on a website are 100%. Of this, well under 30% will probably remain in the measurement from 2023 onwards if no adjustments are made to the tracking setup.
The rest – and this can consequently concern approx. 60%-70% of the data – is no longer measurable without cookieless conversion tracking. This means that considerably less data is available to the bidding strategies in the Google Ads account. To make a long story short: One can already speak of a critical share here. Correct web statistics are also no longer possible this way. Advertisers on Google Ads must therefore prepare for a change in their setup, towards conversion tracking without cookies.
Expected cookie measurement loss
What data will be available to me in the future?
Before the tightening of the GDPR, only references to the use of cookies were mandatory. Online marketers could then at least still measure around 70% of conversions from 2019 onwards by sensibly installing the then mandatory cookie banners. Such measurement losses could be planned for in Google Ads to some extent. For example, taking into account the real measurement loss, bidding strategies such as target CPA and target ROAS could be set accordingly and the learning algorithm of Google Ads could be trained (pricing in measurement loss).
This will no longer be readily possible from 2023. Because the reasons of the measurement loss are no longer only in the cookie banner. Rather, these are now as diverse as they are varied:
#1 Reason: Lack of user trust
Users are now sensitized when it comes to the use of advertising tracking. If clicking on an ad results in users being "stalked" by inappropriate and overly busy ads, trust in the provider decreases. However, personalized online advertising, for example via Google Ads Remarketing, is also losing massive approval and trust.
The trend for users to use ad blockers or privacy browsers has increased again in recent years. At the latest then, Google also had to intervene for its core business – the delivery of relevant ads.
#2 Reason: Privacy Policy
The last years in online marketing at Google were accompanied by ever new tightening. The cookie hint became the cookie banner. This happened at the latest when the BGH transposed the ECJ ruling of October 2019 into German law at the beginning of 2020. into German law.
At the end of 2021, cookie banners underwent another tightening: the active consent (opt-in) of users became mandatory. This meant that only an active click on accepting the cookies was sufficient, but not accepting through already preactivated or preselected privacy settings in the banner.
#3 Reason: Browser Updates
Little by little, more and more browsers are saying goodbye to cookies. Initially, it was the third-party cookies (3rd-party cookies) that were able to literally track users through advertisements on various websites. Google Chrome also rejected third-party cookies. Google Ads advertisers should have a good memory of the year 2021: Because that's exactly when
introduced a new first-party cookie for its own
for its own conversion tracking tag.
As a result, bidding strategies in Google Ads accounts experienced a not inconsiderable cut in their own data collection. Conversion probability prediction became less accurate and required more time and data for the learning algorithm (depending on traffic volume). Smart bidding strategies such as target CPA and target ROAS fell back into the era of longer learning periods. In addition, these bidding strategies were henceforth more sensitive to major changes in target values and campaign budgets.
What is the tracking strategy for 2023?
Google Ads itself has already metaphorically described the tracking strategy for 2023: "It's time to fix the leaky bucket"! This means that Google discourages conversion tracking that continues to be based only on cookies. In any case, this can only represent an ever-shrinking proportion of actual conversions. Campaign performance data thus gets worse and worse without the advertiser's intervention, disappearing into a "non-measurable black box."
A good tracking strategy for 2023 is therefore based on a combination of several measurement methods. It can be easily represented in 3 pillars:
#1 Pillar: Sitewide Tagging with Google Tag Manager
Manually placing individual tracking codes on your website is error-prone and outdated. Use Google Tag Manager (GTM) as the central measurement instance. The GTM only needs to be installed once on the site. In addition, it clearly offers all now important functions:
Central tag management:

In the GTM, you always have an overview of which tags are currently present and active. You can easily overview tracking and web statistics in one interface.

Consent Management:

The tags created in the GTM can be easily linked to the user decision from your cookie banner. Accidental tracking of users who have rejected cookies in advance is thus very unlikely.

Sidewide tagging check (new).

: With Google Tag Manager, you can have your website scanned for URLs where there are tracking errors or missing measurement tags.
#2 Pillar: Enhanced Conversions
Logged-in Google users in the Chrome browser and on Android devices represent a significant competitive advantage for Google Ads. Because in every Google account, personal advertising and privacy settings allow data to be collected anonymously. The inference of personal data or even an exact browser history is irrelevant for Google. The creation of fully anonymized and large cohorts is sufficient to make the interests of large user groups accessible to advertisers.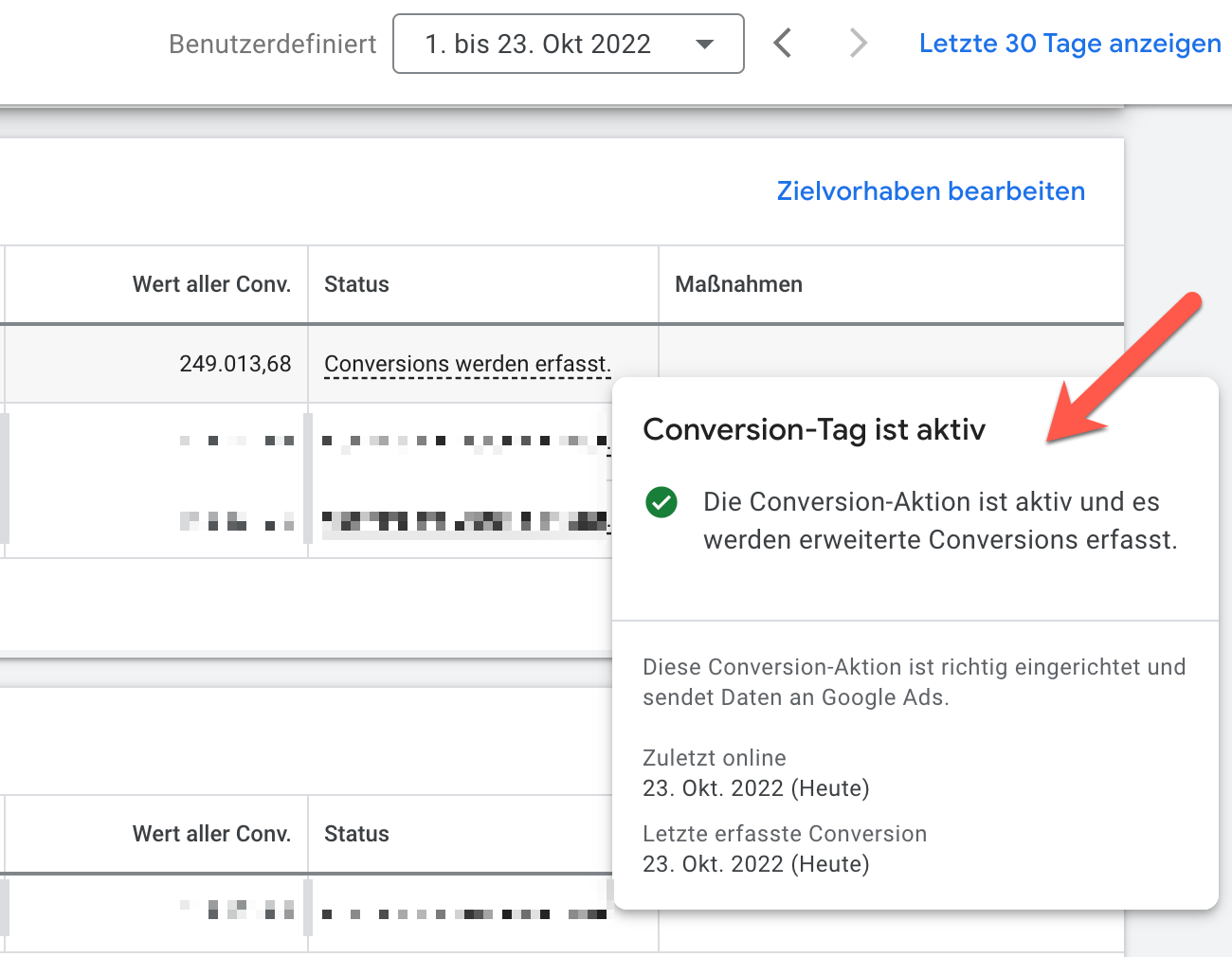 The
Enhanced Conversions
can be set up for almost any Google Ads account with conversion tracking. In this process, customer data such as the e-mail address is sufficiently masked and anonymized by hashing when an online order is placed. Google Ads thus receives reconcilable data on conversions by Google users. This increases the plausibility of the conversion measurement and can also map cross-device conversions.
#3 Pillar: Google Consent Mode
Rejecting cookies in the cookie banner not infrequently causes measurement and statistics losses of 20% to 40%. This data can be made visible again through Google Consent Mode without overriding the privacy decisions of the user.
At
use of the Consent Mode
conversion tracking is enabled without cookies. This is a mere count of conversion actions. Conclusions about the behavior of users on the website are not possible. However, Google Ads bidding strategies are getting plausible completion data again, which makes steering to CPA, CPO or target ROAS more feasible again.