The success of any online business crucially depends on its visibility on the Internet. After all, the more potential customers reach the company's website, the greater the chance that they will turn into paying customers.
Good search engine optimization is therefore essential if you want to be successful in the long term. Many companies believe that they can simply take care of the issue themselves alongside their day-to-day business and underestimate how extensive and fast-moving SEO, keywords and the like are. With professional SEO consulting, on the other hand, you can give your business the boost it needs to get to the top.
We will show you why you need an SEO consultant, what services you can use and give you tips for a smooth and successful cooperation with your SEO consultant.
This is why you need an SEO consultant
Search engine optimization is an essential part of being successful on the Internet. This involves designing one's own website in such a way that it is found well by search engines – in other words, it is visible. This is not only important for companies that want to market their products and services online, but also for organizations, clubs and associations that want to be present with their website via the Internet.
However, successful search engine optimization can only be achieved by experts, because search engine algorithms are complex and constantly changing. Those who believe they can acquire the knowledge themselves invest a lot of time and effort – but usually without seeing any real success.
The SEO consultant, as an expert in his field, knows not only the relevant facts, but also the latest trends and developments. After all, search engine algorithms are constantly changing. What works today may be obsolete tomorrow. With your SEO consultant, you can completely rely on his professional expertise and save resources both in terms of money and time.
Your SEO consultant will help you find effective keywords and optimize your website. Such advice can also be immensely helpful when creating new content; for example, finding the right balance of text, images and video to provide the best user experience for your website visitors. In addition, you can benefit in the long run from tips and tricks around online marketing and thus not only increase your visibility, but also generate more traffic at the same time. The right partner at your side will help you achieve your goals and recognize the potential you may not see.
But what scope of services does SEO consulting actually include and how can you tell if it's a good service provider? We have summarized for you what you need to pay attention to if you want to make your company more successful together with an SEO consultant.
What does SEO consulting include
SEO consultants are service providers. They therefore tailor their services to the needs and questions of their customers. This can mean the entire range of services or concentration on a specific sub-area. Before you get in touch with an SEO consultant, you should know what services are available and determine which ones you want to use.
Basically, however, an all-around SEO consultation includes the following services: A comprehensive SEO audit of the client's website, the creation of an SEO and content strategy for the site, the definition of specific updates and measures to improve rankings, the ongoing optimization and validation of the website's visibility, and regular training and workshops on SEO. Read below what exactly the individual services mean:
SEO experts perform a comprehensive SEO analysis at the beginning of their work. This consists of an inventory of current online marketing efforts and the ranking of the website and keywords for which the brand is found on Google. The results of this SEO analysis form the basis for creating a strategy that can be used to define concrete goals for optimization. However, the audit is not only used to get an overview of any errors on the site that may cause the search engine algorithm to miss certain keywords or potentially negatively impact the site's ranking.
Often, during a consultation, a common error is also discovered, which concerns so-called duplicate content. Companies sometimes publish the same content multiple times on their website. However, this duplicate content is penalized by Google and can thus negatively affect the brand's position in search engines. However, SEO consultants have several ways and tools to identify this duplicate content and thus fix errors quickly.
Development of the SEO strategy
After the website has been analyzed, it is time to create a strategy to achieve the previously defined goals of SEO consulting. Search engine optimization is basically a permanent measure for the marketing of companies and should therefore be long-term.
One strategy could be to publish more content on the website to be found for more keywords on Google.
Implementation of the SEO measures
Now it's time to put the theoretical part into practice and put the developed SEO strategy into action. For this, depending on the agreements with your SEO consultant, you will have to take action yourself and make certain changes on your website or the service provider will do it for you.
Most of the implementation work is expected to be customizing new and existing content on the website. The goal here is to make the readability of the page more interesting and readable by designing longer texts with headings, paragraphs, images, audio files or lists. This is not only important for visitors to the site, but also has a positive impact on the ranking in Google.
A consulting area of SEO is link building, i.e. building external links to a website – so-called backlinks. This way, you network with the content of other website owners and customers are redirected to your company from external websites. This has a positive effect on the placement of the business.
With many SEO service providers, it is common to offer training or a workshop for the client's employees. In the process, they should learn how to take care of the website themselves in the future.
Features of good SEO consulting
We provide you with characteristics on how to recognize a good SEO consultancy so that you can find the right service provider for your company.
The first step: The analysis
We have already described it: Analyzing the status quo of your company is the first step of any SEO consulting. Only in this way can the service provider advise you individually and build a strategy that is tailored to your company. You should not resort to SEO strategies that have been prepackaged.
A good SEO consultant will design you a holistic strategy that takes into account the following factors in addition to the pure SEO factors:
Special characteristics of the target group
Conversion rate optimization
Web design and UX
Content Attribution
Interaction of all online marketing channels with SEO
Content along the customer journey
Content is the most important factor for top Google rankings. However, when content is mapped to the customer journey, it only ranks on Google. A good SEO consultancy knows the difference between top-, middle- and bottom-of-the-funnel content and develops a content strategy that picks up users in the early information phase via Google search.
A good SEO consultancy is characterized by sustainable and high-quality link building measures. Because backlinks that are built on outdated measures, such as spam backlinks or purchased links, damage your company's Google ranking – permanently.
Your SEO consultant can show as much expertise and competence as you like, if he is not able to explain even complex issues to you in an understandable way, the SEO consulting is a tedious work and very likely not crowned with success.
How to measure the success of your SEO consulting
Consulting is important, but how can you ensure that SEO consulting is actually successful? Measuring success is a critical factor in evaluating the effectiveness of an SEO strategy.
We have listed the most important criteria that you should definitely consider.
Reach: How many people see your website or blog?
This can be measured by monitoring the number of hits. If a particular article or category has comparatively many hits, you can assume that readers like it. Of course, not every text worth reading is popular, and vice versa.
If you manage to combine exciting content with high popularity, you have the perfect mix to succeed.
Visitors: How many additional visitors does your website receive as a result of the SEO measures?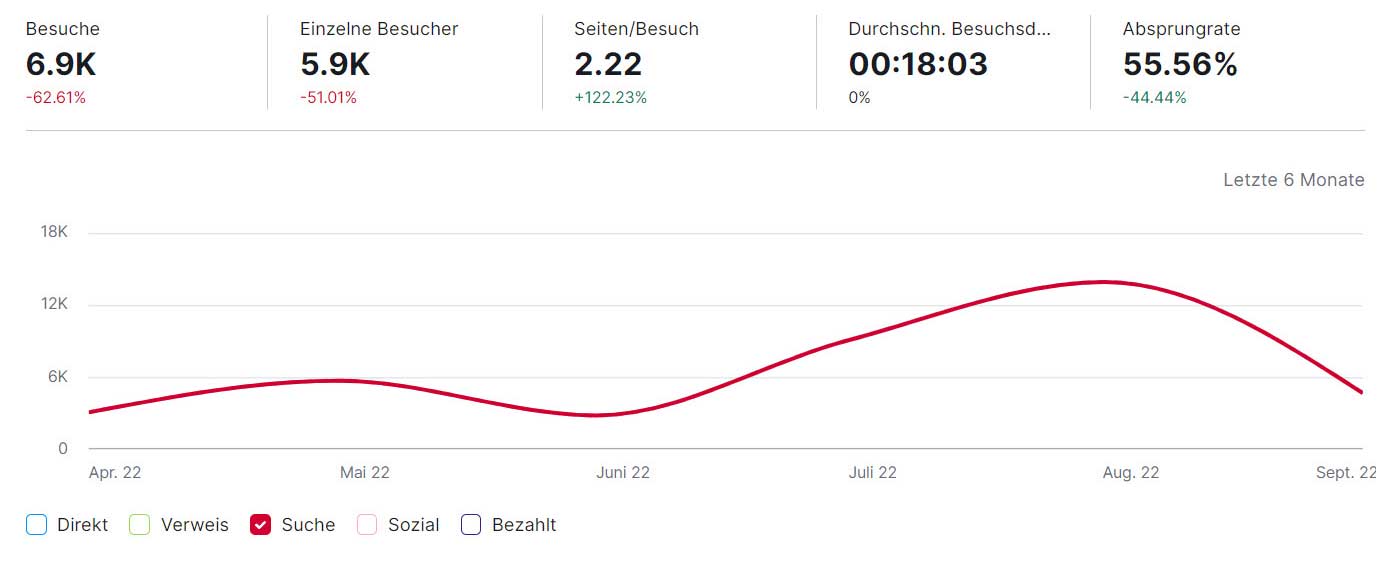 For this, you should look at your website's traffic and search engine traffic. You should also monitor these numbers regularly to ensure that the measures are actually successful. If you notice an increase in traffic or improved positioning in search results, you can be sure that your SEO measures are bearing fruit.
Engagement: How long do visitors stay on your website or read your blog?
You can measure this by monitoring bounce rate (the number of users who visit only one page) and dwell time (the amount of time a user spends on a page). Both are important factors in determining whether visitors are truly consuming your content and generating engagement. The higher the bounce rate, the shorter visitors stay on the page and the lower the engagement.
The higher the dwell time, the longer visitors are on the page and the higher the engagement.
You can monitor the conversion rate via sales figures, registration forms or downloads. It's important because it tells you if your website is effective and helping your visitors get the results they want. The higher the conversion rate, the more successful your website is.
Search Engine Rank: Where does your website rank in search results for specific keywords?
With the help of ranking tools such as "Google Search Console" you can check where your website stands in the search results for specific keywords. This will help you determine if the actions you are taking to improve your rank are actually working. In addition, you can also see which keywords are most valuable to you and where you still have room for improvement.
Using ranking tools is a great way to measure the success of your website and make sure you are on the right track.
Keyword traffic: What proportion of all visitors are generated by specific keywords?
There are several ways to find out how many visitors certain keywords generate. This can be measured with the help of analysis tools. If you want to know what share of the total traffic your keywords have, you can use Google Search Console. In Google Search Console, under the "Search Analysis" tab, you will find an overview of the search queries that lead to your website. Here you can also see how many clicks each keyword has generated.
The most important at a glance
Search engine optimization is a complex and constantly changing subject, which can only be learned by yourself with a lot of effort, time and money.
A professional SEO consultant will ensure that your company becomes visible on the Internet and successful in the long term.
SEO consultants tailor their services to the individual needs and goals of your business.
A good SEO consultancy develops a holistic strategy with long-term measures for you.
Continuous optimization is the be-all and end-all of SEO consulting.
With factors such as reach, traffic or conversion rate, you can measure the success of your SEO consulting yourself.
Good cooperation promises long-term success